We're looking for the next generation of creative and curious talent that are ready to develop their skills and make that difference, together. This page is packed with information to excite, inspire and guide you in the early stages of your career journey.
You can sign up to upcoming events, or view ones that you've missed. Meet our people and learn more about the world of banking and life at Deutsche Bank, from behind the scenes. We'll keep you up to date with our application and assessment processes too, so you feel prepared and ready to help shape the future of finance.
Whether you're fresh out of school or already have some experience, you'll find a wealth of information to read, watch and share.
Download our mobile brochure to learn about the Opportunities in your region.
Apply now
To an outsider, the world of banking can seem like an enigma. But that's something we want to change: our animation series explains how the various different products and services fit together and aims to help you identify where your skills could be applied.
Inside you'll discover what banks do, where you could fit in and how to get a foot in the door. We've deciphered jargon, debunked myths and decrypted info to make the world of banking accessible, once and for all.

unofficial guide to banking

more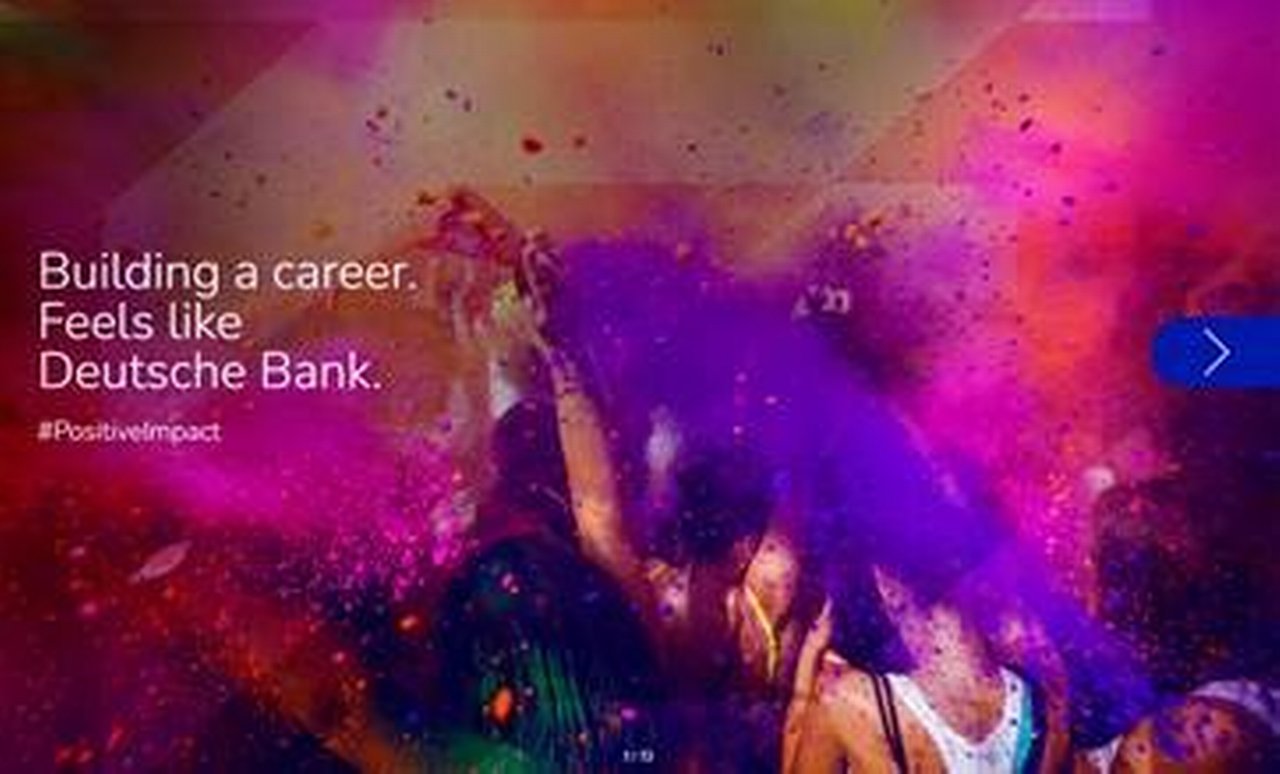 Explore our global Early Careers Opportunities and discover where a career at Deutsche Bank could take you.
Working out which area of the bank you want to apply for can be confusing. Now that you've read the Unofficial Guide to Banking to better understand how our different business areas operate and what skills you'll need for these, we asked some of our graduates to explain what they do day-to-day in their different roles. Watch these videos to find out more.
Investment Bank: FIC Sales, Trading & Structuring

Giuliana works in Structuring, Elliott in Trading and Silvia in Sales – together they work with clients to provide a broad range of fixed income and currency (FIC) products and financing solutions. In this video they break down the kind of work you could do early in your investment banking career.

Wealth Management

Olivia from Investment Advisory in London and Felisse in the Global Funds Group in Singapore explain the kind of work they did during their rotations as part of the Graduate Programme. In Wealth Management you can expect responsibility early on in your career and exposure to real client work.
Meeting Deutsche Bank employees and hearing how our bank works and what makes us unique is an important part of your research. Stay informed of upcoming Deutsche Bank Early Careers events to supplement what you've seen and heard through the Unofficial Guide to Banking and Day in the Life of a Graduate Analyst videos. Unless otherwise indicated, events connected to a specific university are for students of that university only.
Missed some of our previous virtual events? No problem, you can watch a selection of our recent events from around the world. Hear from our recruitment team, recent early career starters and senior leaders.
The Reality: Tech in Banking

The session is designed to give you a realistic and unique insight into what working in financial technology is actually like, what the real disruptors are and how Deutsche Bank is harnessing the latest technology developments. You'll also hear first-hand from Vlad and Toby what the career paths and learning journey could look like for engineers in the bank.

We don't think finance should be complicated and at our virtual Unofficial Guide to Banking event, Meghan, Henley, Dave and Monica were there to convey concepts, banking structures and the Early Careers opportunities available in the US to make it easy to digest. Find out how you could use your skills and start where you belong.

Unofficial Guide to Banking (US)

Play

Deciphered jargon, debunked myths, and decrypted info. During the course of the 1-hour event recording, you'll get to know our wide range of Early Careers opportunities and where you could best apply your skills. From roles in our Investment Bank to our Private Bank, you'll chat to recent joiners, leaders and recruiters about starting your career with us in Asia.

Unofficial Guide to Banking (APAC)

Play

The Reality: Being Black in Banking

In this episode of The Reality Series, Faroghe speaks to Paul and Trevor about their experiences of being black people in the industry. They discuss the challenges around racial diversity in the workplace and what we're doing to make sure everyone feels like they belong.

Deciding which area of the bank to apply for can be confusing; whether that's Technology, Investment Banking, Private Banking or something else entirely. Shilpa, Soumya, Joshua and Olivia share their experiences to help you understand your options when it comes to starting your career in the industry.

Unofficial Guide to Banking (UK)

Play
We've pulled together a number of our helpful resources to support you writing your CV, prepare for interviews and start your career with your best foot forward. Our recruiters and employees early in their careers share their advice.
What can you expect from the recruitment process? Read here to find out more and to help you through the process.

to how to apply

more

When is the best time to apply? When will you hear back from our recruitment team? Take a look at this chart which should answer some of these questions.

to recruitment timeline

more

Application skills

See these tips from the Early Careers team to help you through the application process.

"Read the job description carefully to make sure that it's the position you're truly interested in and want to pursue, and to make sure you fit all the requirements."

"Give yourself ample time to prepare your CV and application form so that you really personalise and bring out what makes you the best fit for the role you're applying for."

"Don't miss the deadline. Pay attention to the deadline and submit your application before that."

Be realistic, relevant and showcase your skills. Our specialist recruiters share their tips for writing applications that stand out.

Recruiters at Deutsche Bank see a lot of applications - so they've got some pretty firm ideas about what good looks like. We asked some of our specialist recruiters what they think anyone looking to get into banking should know about how to make the most of the opportunity that an application offers.

They believe that quality is a far better use of time than quantity. "If you're looking for a new job, particularly early on in your career, it's tempting to cast the net far and wide, and let the quality and relevance of your applications slide accordingly", they warn. "But don't lose sight of your long-term aspirations, and think carefully about how the roles you apply for are going to move you in the right direction."

to writing applications

more

CV writing skills

How do you explain your story in one page? And how important is a cover letter? Our recruiters from around the world share top tips for writing a winning CV.

"Your CV is one document which is going to talk about your background or your story on your behalf. So, you always want to ask yourself, 'what is the story that I want my CV to tell?"

"When you're writing your CV, think about relevance. Choose the experiences that are most relevant to the job you are applying to, and put them down on your CV."

"Don't forget about grammar – you want to make sure that you spell-check and that all your grammar is correct."

"Remember formatting – make sure there is consistency, that everything is aligned, and everything looks uniform."

"Make sure you're tailoring your CV and application to Deutsche Bank. Talk about what makes you excited to come to work and what kind of teams you'd like to work in."

"Talk about events that you've been to and people you've met that really inspire you, and make you want to work at Deutsche Bank."

Whatever role you take on in a bank, collaborating with others around the world is a core part of our culture. Harnessing your communication skills is key to succeed. Take a look at our tips on how you can get ahead.

effective communication skills

more

Interview skills

Our recruiters from around the world share their best advice, including a helpful podcast from Annie Hopkins, Americas Head of Graduate Recruitment.

"Prior to an interview, don't forget to do your research. It's key that you know the position you're applying for, the division and more importantly, the firm."

"Make sure that you show you're a good fit for that opportunity. Show that you're qualified and show that you want the job!"

"Think about your personal branding – be confident and start the interview with a smile."

"Make sure you take the opportunity at the end to ask your interviewer questions and get to know them. It's a great opportunity for you to learn more about the division and what your interviewer does. You never know, you could end up working in their team when you start here."

In an increasingly digital world, your online brand can contribute to (or hinder!) your success in starting your career. Read our recruiter tips to help you make the right virtual impression.

make you online brand tell your story

more
Visit our events calendar to see when these skills sessions are being run virtually or at your university campus
So you think you want to work with us but are not quite sure what the culture is like? This selection of resources aims to give you a glimpse into life at Deutsche Bank, who we are and what we stand for.
Here, it's not just about what you do on a day-to-day basis, it's about the impact you'll have. Our people do more thank banking. Click here to read their stories.

to life at Deutsche Bank

more

We would be nothing without our people. It's the different perspectives they bring, combined with their everyday brilliance, that drive our business forward and help us make a positive impact the world over. They're the ones empowering confidence in those around them, inspiring the next generation of leaders and working to create a truly diverse and inclusive culture.

Inclusive Culture

more
How do banks fit into the global economy, into technology advancements and daily life? We've pulled together some of the latest research and reports; from sustainability to FinTechs to get you thinking about the future of the industry.